North Florida's Largest and Most Extreme Laser Tag Experiences!
Our new 8,000 square foot state-of-the-art, multi-room, multi-level arena, combined with iCOMBAT tactical weaponry, will transport you into an ultra-realistic combat zone that will change your indoor laser tag experience forever. iCOMBAT tactical laser tag is the future of laser tag entertainment. You'll take part in thrilling missions, using state of the art equipment that simulates the real feel of the battlefield. iCOMBAT Tactical Laser Tag is the most heart-pumping, action-filled laser tag game you will ever experience.
Rates
$8 for One Game.
$15 for Two Games.
$20 for Three Games.
Also available in our play packages.
Rates include: eight-minute games with a five-minute safety briefing.
Need to Know
48" minimum height requirement.
Athletic shoes recommended. No flip-flops.
For your safety, no running, crawling, or climbing. You must use the safety strap on the weapon, always avoid physical contact with other players, no unsportsmanlike conduct.
BRAVOZ game card or wristband required.
Need to Know
48" minimum height requirement.
Athletic shoes recommended. No flip-flops or crocks permitted.
For your safety, no running, crawling, or climbing, always avoid physical contact with other players, no unsportsmanlike conduct.
BRAVOZ game card or wristband required.
The Experience
iCOMBAT is the future of laser tag gaming. You'll complete in thrilling missions while navigating the run-down cityscape of the Saharan Slums, a realistic urban combat arena of the Middle East. Become fully immersed in our arena featuring incredible sound, lighting, and realism. Jets scream overhead and bombs rattle your teeth. iCOMBAT is not for the timid.
The Equipment
iCOMBAT laser tag weapons are high-tech replicas so they look and feel just like the real thing – but are completely safe to use. Experience live noise and recoil! See a bright muzzle flash and let our Field Ops change out your magazine when your ammo runs out! Several gun options are available with single and burst modes.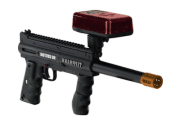 Barracuda:
For general laser tag play, the Barracuda laser tag equipment is safe and easy to use. Our Barracuda guns are primarily used for our daily operations for all ages to enjoy.
The Game
Click on our images below to view descriptions for each game mission!
TERMINATOR
Time to mix your team up. A small group of players will be chosen to be the terminators while everyone else will play as the resistance. Terminators will have to take on the rest of the players with their extreme power of 1 shot, 1 kill. The terminators also have great strength as it will take 7 hits to kill them. Both teams will have unlimited respawns. Whichever team has the most kills at the end of the 5 minutes will win. Adapting your strategy to work with your new teammates will bring the best chances of coming out on top.
SUPPLY GRAB
An intense and concentrated tug-of-war game between two teams. In the middle of the battlefield lies a recent supply drop of 7 boxes and both teams must battle to secure as many of them as possible. You must fight to grab a box and bring it back to your starting zone. The team that secures 4 boxes before 5 minutes is the winner. All players get 2 health and unlimited respawns. If neither team collects 4 boxes, the team with the most at 5 minutes wins.
JUGGERNAUT
The juggernaut is a classic assault game. One team has one player become a juggernaut. The juggernaut and a body guard set up a defense to protect the juggernaut. Both teams begin in the normal starting zones. The juggernaut gets 150 ammo, 10 health, and no respawns, while everyone else gets 2 health and unlimited respawns. The juggernaut team must keep the juggernaut alive for 5 minutes in order to win the game. The attacking team must destroy the juggernaut under 5 minutes to win.
DOMINATION
This classic battle for superiority is ideal for teams and risky players. The Dominators (capture points) are placed around the battlefield and teams must fight to claim the area for their side. A player must get to the Dominator and shoot down the center to activate it for their side. While the Dominator is claimed by one side or another, it glows their color and secures points. The highest point total at the end of 5 minutes wins. All players have 2 health and unlimited respawns.
RECON
Recon is needed to emerge victorious! All players have two health and unlimited respawns and are divided into two teams. Each team has a Dominator in their home base, and there are more out in the battlefield. Players must find and shoot a Dominator out in the field and then return to their base and shoot their own without getting eliminated to score a point! The team with the most points after five minutes wins!
ELIMINATION
Two teams go head to head in this variation of deathmatch. Players get 2 health and only 1 respawn. The goal is to find and eliminate the opposing team. The team with the most players alive at the end of 8 minutes; or the last player standing wins. Elimination is played at night time with no indoor lighting – making stealth and tact the winning tools of the day.
TEAM DEATHMATCH
Players go head-to-head in this classic combat scenario! Players have one health and unlimited respawns, and are split into two teams. Whichever team blasts the other the most within five minutes is the winner.
SWAT
A SWAT team has been dispatched to clear the neighborhood of a vicious gang. The thugs are hiding out and must survive for minutes. The SWAT team has 2 lives and 2 respawns, while the thugs have 4 lives and no respawns. Thugs can start in any building with one person in each and the SWAT team starts under the tower. They can respawn anywhere on the field and must race against the clock to eliminate the threat.
With tons of missions, your experience will never be the same. Some
missions focus on teamwork, others on strategy or stealth, and some on
individual domination.