UPDATE: 
Effective Tuesday, June 30th, and in cooperation with the City of Jacksonville mandate, all BRAVOZ Entertainment Center patrons will be required to wear face masks in order to enter the facility. We will ask that patrons continue to adhere to social distancing recommendations.
All enhanced sanitization procedures are still being implemented, as the safety and well being of our BRAVOZ patrons, guests and staff remains our #1 priority.
---
Dear Bravoz Patrons,
We are excited to announce that Bravoz Entertainment Center will be reopening Friday, May 22. 
As members of the Jacksonville community for almost 30 years, Laura and I want to assure you that the safety and well being of our guests and Bravoz Staff remains our number one priority.
In order to most effectively achieve this, and in light of the ongoing COVID-19 concerns, we've undergone the following facility enhancements:
We have thoroughly cleaned and sanitized all Trampoline Court pad covers, floor beds and decking, and have repainted handrails
The entire facility has been treated with our Check Mate Electrostatic Sanitization system that is utilized by health care systems, school districts, government agencies and other "high volume" facilities nationwide
We have reconfigured our Ninja Warrior course to allow for ongoing social distancing without disrupting the challenge or fun
We have added protective barriers at all cash register stations for the safety of both patrons and staff
We have added hand sanitizer stations at the entrance to each attraction
Restaurant seating will be modified to adhere to recommended capacity levels in accordance with State and Local guidelines
The Restaurant will open the following Guidance Standards as issued by the Florida Restaurant and Lodging Association and in accordance with the Florida Department of Hotels and Restaurants
All staff members have been trained on most recent "social distancing" recommendations, including proper use of Protective Devices (where applicable), patron distancing techniques, hygiene, updated facility cleaning procedures, enhanced attraction disinfecting measures, and in accordance with industry guidelines and, where applicable, state licensing bodies.
Staff has been trained to avoid reporting to work if they've developed symptoms of fever, cough/cold, and other related symptoms
You will also notice some changes to operations.  Please note some of these precautions are subject to change, as we are committed to following best practices as advised by CDC and industry standards.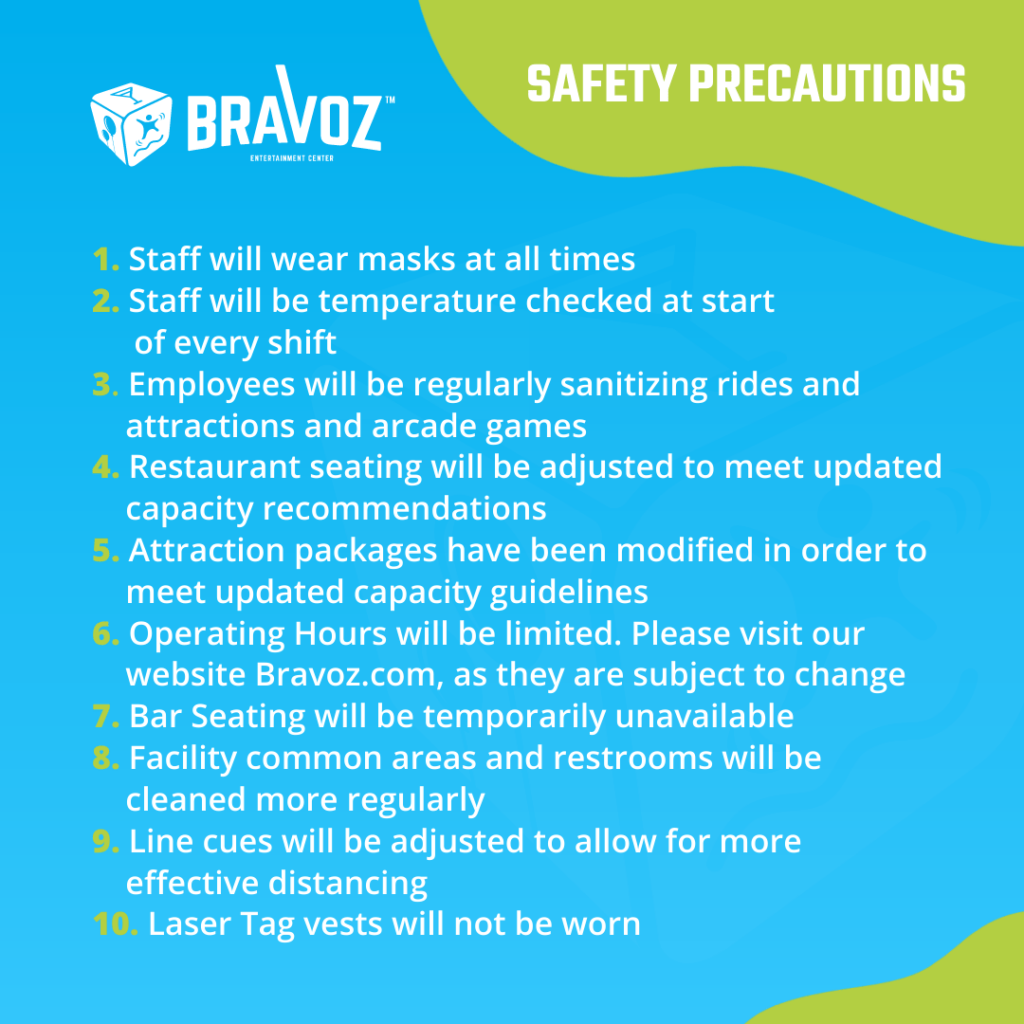 In addition, in order to better protect our fellow guests, Bravoz patrons are asked to take the following steps: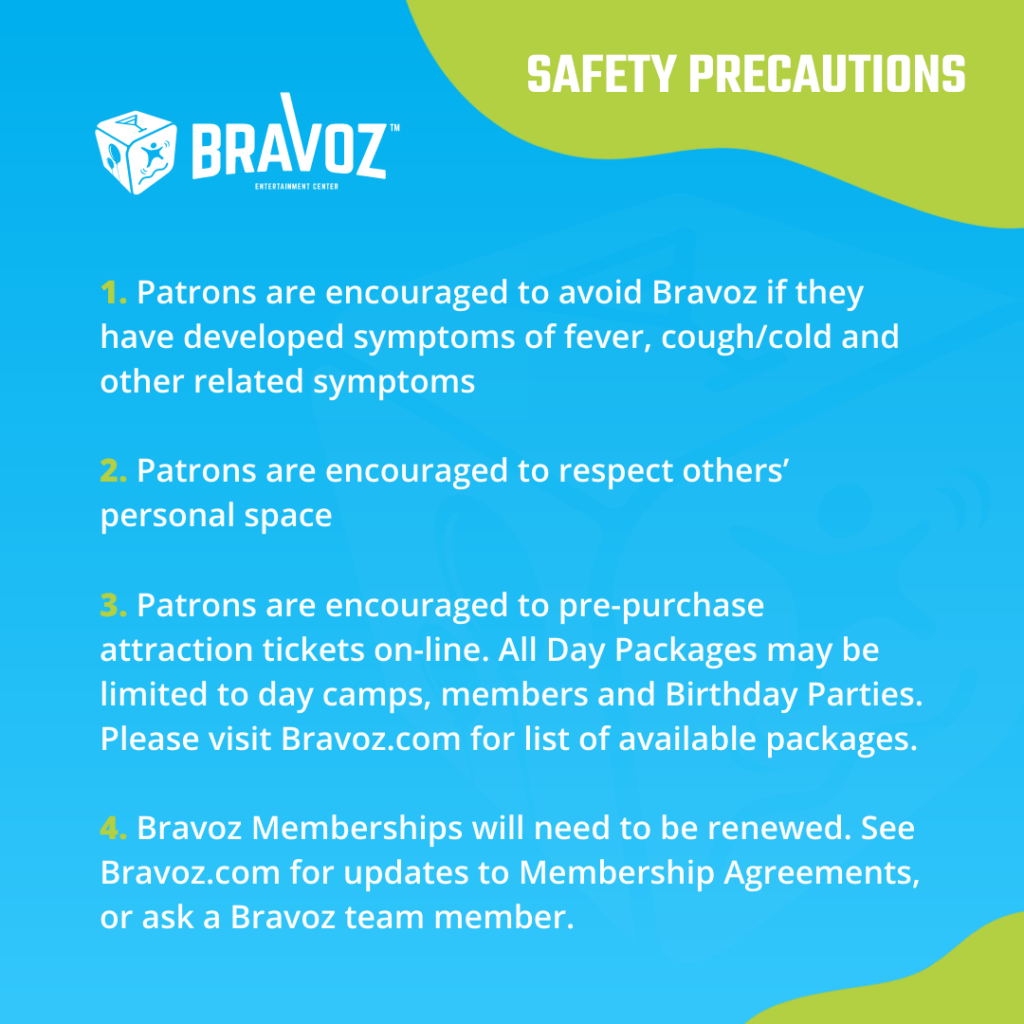 We've received several inquiries as to operating hours, pricing, our award-winning birthdays and terrific summer camps.  As we move ahead, and with emphasis on sanitary conditions of our facility, please note our days and hours of operation will be temporarily limited.  We will expand days and hours as quickly and safely as possible.
Days and Hours of Operation
Week of May 18-May 24
Monday-Thursday Closed
Friday, May 22-Sunday, May 24 – 12:00pm to 8:00pm
Week of May 25 – May 31
Monday, May 25 (Memorial Day) – 12:00pm to 8:00pm
Tuesday-Thursday – Closed for sanitization
Friday, May 29-Sunday, May 31 – 12:00pm to 8:00pm
Packages and Rates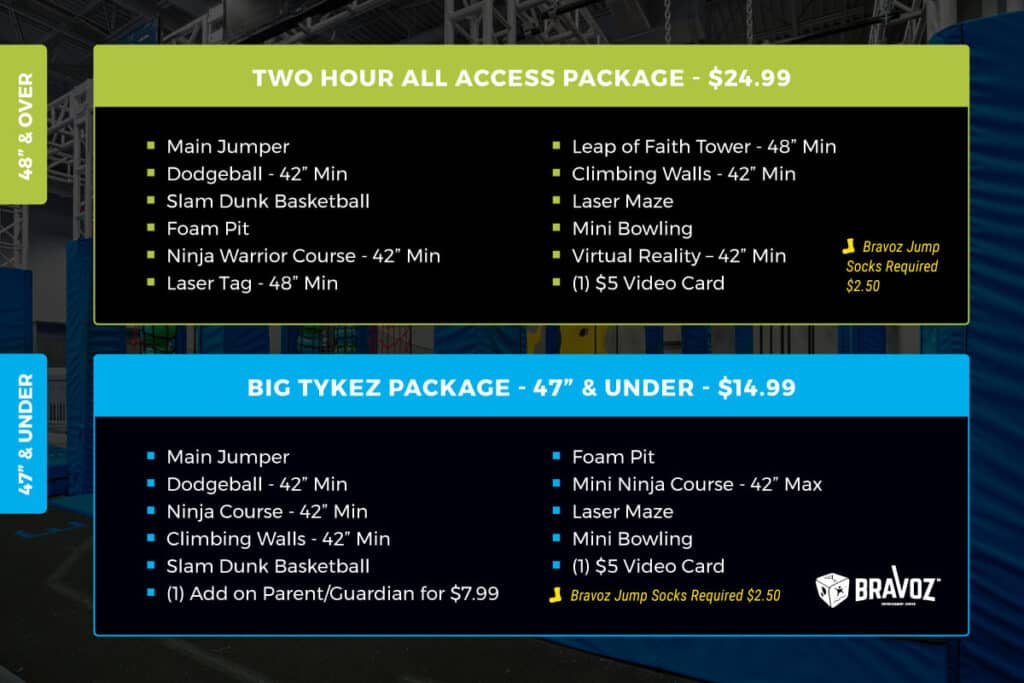 Birthday Parties will be limited to 10 participants in order to adhere to recommended group gathering guidelines
 Day Camps: Day Camps will begin Monday, June 1
Half Day – 9:00am to 2:00pm (must be checked out by 2:30)

         Daily Rate – $45.00
       Weekly Rate – $195.00

Full-Day – 9:00am to 5:00pm (must be checked out by 5:30)

Daily Rate – $60.00
Weekly Rate $270.00
Since we opened as Rebounderz in 2012, Laura and I have been honored to provide North Florida with an exceptional entertainment experience, and are thankful to the almost one million guests we've had the privilege to serve.  We'll be sending out further communications as updates are made, and are looking forward to seeing you soon.
Thank You!
Laura and David Zorn